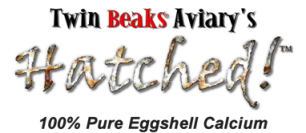 Hatched! is a premium, ultra-pure, 100% natural source of calcium. It is 20% more absorbable than other forms of calcium carbonate. Hatched! is processed using a patented, chemical-free separation process in a U.S. FDA registered facility. It is packaged using FDA approved materials. Hatched! Egg Shell is human-grade, sanitized, pesticide-free and contains no preservatives or artificial coloring.
Avoid the problems of poor absorption, feeding too much or too little when using other forms of calcium. This is like no other eggshell product out there! Human-grade, FDA regulated facility and packaging, crushed, not powdered... This is pure, sanitized eggshell, batch tested and passing with a Certificate of Analysis. TBA's Hatched! is lower in Heavy Metals than any other natural calcium source, making it FDA, USP and California Prop 65 compliant.
Herb Salad and Hatched! compliment each other well and can be served mixed, in the same dish, or side by side.
Hatched! 100% Organic Ground Egg Shell
Store Temporarily Closed
Tiffany, just wanted to thank you for all the recent orders. The Twin Beaks Aviary's Hatched!, my birds devour. Also, your shipping charges are the most reasonable I have found. I appreciate all you have done and will be buying from you again here soon.
P.S., love all of the free samples as well.
Robyn B. - Texas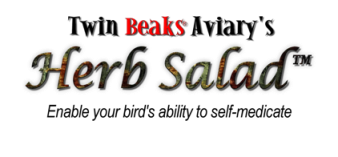 Herb Salad's 100% Organic ingredients are the leaves, roots, bark and flowers of the plants that animals in the wild seek as a means to obtain required nutrients, minerals, vitamins and healing capabilities. It differs from food and water additives such as vitamins and medications in the manner that it allows your birds to choose what it is they require and in what amount, when and if their diet needs supplementing. Herb Salad's 22 medicinal herbs address common health issues safely and without the dangers that improper medicating and over supplementing can produce.
Herb Salad
Store Temporarily Closed
.
Ingredients and Their Indications:
Milk thistle
liver repair, heart, lungs, circulation, worms
Oatstraw
calcium, magnesium, yeast infections, thyroid
Echinacea
antibiotic, antiviral, immunity, vitamins, proteins
Thyme
antibacterial, kills & expels worms, diarrhea
Pau d'arco
blood cleanser, fights infections, liver, candida
Plantain
kidneys, appetite, diarrhea, anti-inflammatory
Dandelion
stomach, vitamins, potassium, calcium, kidneys
Marshmallow
wounds, calcium, diuretic, demulcent, tonic
Red clover
relaxant, antibiotic, inflammations, minerals
Chickweed
C, B, D, Anti-inflammatory, stomach, respiratory
Garlic
antifungal, antioxidant, fertility, heart
Olive leaf
feather problems, improves the will to live
Kelp
iodine, thyroid, stimulant, mucous membranes
Elderberry
respiratory, anti-inflammatory, blood, appetite
Barberry
antiseptic, respiratory, blood purifier, liver
Licorice
expectorant, liver, anti-inflammatory, flavor
Yarrow
blood, liver, virus & fungal inhibitor, tonic
Astragalus
immune system, digestion, energy, kidneys
Lavender
digestion, essential oils, stress, metabolism
Wormwood
liver, aids digestion, appetite stimulant, worms
Spirulina
fertility, growth, stress, color, protein
Wheatgrass
circulation, amino acids, enzymes, chlorophyll